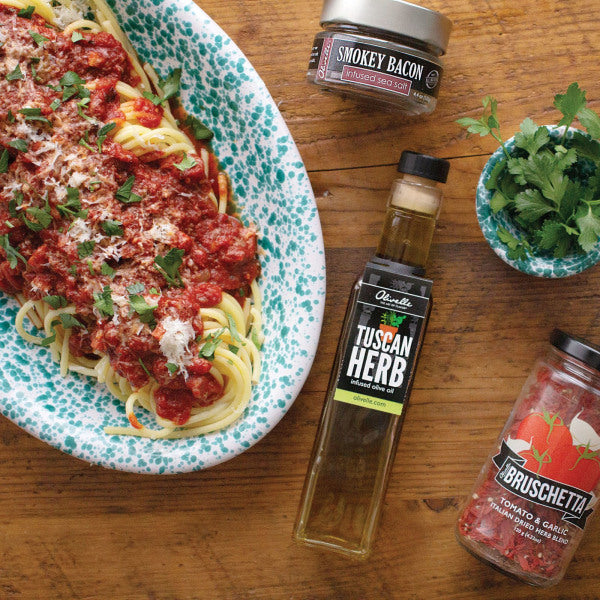 BUCATINI WITH AMATRICANA SAUCE
BUCATINI WITH AMATRICANA SAUCE
Amatriciana sauce was popularized by Roman-cuisine and is traditionally made with guanciale (cured pork cheek). However pancetta or bacon can be used as substitutes if you can not find guanciale locally! Smokey and umami Amatriciana pasta sauce is the classic pairing for bucatini pasta. If you're a fan of red sauce, you'll love this twist with pork and wine for added flavor!
INGREDIENTS
1 Small Yellow Onion, small dice

5 oz Pancetta

2 Cloves Garlic, minced

1/2 cup White Wine

28oz can Diced Tomatoes

1/2 cup Parmesan, finely grated, plus more to finish

1 Tbsp Parsley
DIRECTIONS
Bring 4 quarts of water to a boil. Season with 1 pasta rock according to package directions. Add pasta and cook to package directions. Drain and cover until ready to use.

Meanwhile in a large saute pan heat the olive oil over medium high heat. Add the onion and saute until translucent, about 5-6 minutes.

Add pancetta to the pan and cook until golden, about 6-7 minutes. Add the garlic and cook for an additional minute.

Add white wine and bruschetta. Cook until wine reduces by half, about 4-5 minutes.

Add tomatoes and sea salt and stir to combine. Reduce heat to medium low, cover pot, and simmer for 20-30 minutes.

Finish sauce with parmesan cheese. Add bucatini to the saute pan and toss to coat. Continue to cook an additional 1-2 minutes to ensure pasta is warmed through.

Serve with fresh parsley and a sprinkle parmesan.
RECIPE NOTE
Amatricana sauce is traditionally made with guanciale (pork jowl), however we use pancetta as an easy to find replacment. If you can find guanciale locally, try this recipe with guanciale instead!
Part of what makes Italian food so great is the focus on high quality, simple ingredients. Therefore we reccomend using San Marzano canned tomatoes for your tomato sauces. 
October 2023
Launch Countdown
It's class time!!