Article: ITALIAN PASTA SALAD WITH A CLASSIC VINAIGRETTE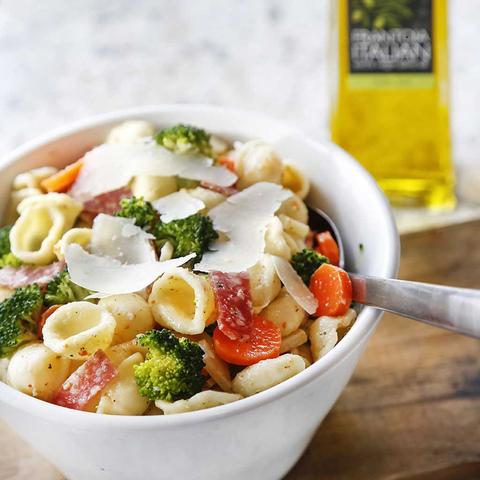 ITALIAN PASTA SALAD WITH A CLASSIC VINAIGRETTE
A refreshing pasta salad using Frantoia Italian Extra Virgin Olive Oil and Wild Garlic Herb Seasoning mixed with fresh veggies, salami and pecorino cheese.

...
Prep Time:  30 minutes - Cook Time:  0 minutes - Total Time:  30 minutes
...
INGREDIENTS:
-
1/4 cup Pecorino Cheese
...
Instructions:
Bring a large pot of water to a boil. Once boiling, add a pasta rock for 2 minutes to salt your water then remove. Add pasta and cook until al dente, about 2 minutes short of package directions. Drain the pasta and set aside.
To make the dressing, whisk together the mustard, herb seasoning blend and vinegar in a small-medium sized bowl. While whisking, slowly drizzle in the olive oil.
Cube into bite size pieces the broccoli, carrots, salami, and pecorino cheese. Toss the meat and veggies with the cooked pasta and dressing.
Enjoy this salad right away or give it a chance to marinate by making it a few hours in advance.
October 2023
Launch Countdown
It's class time!!