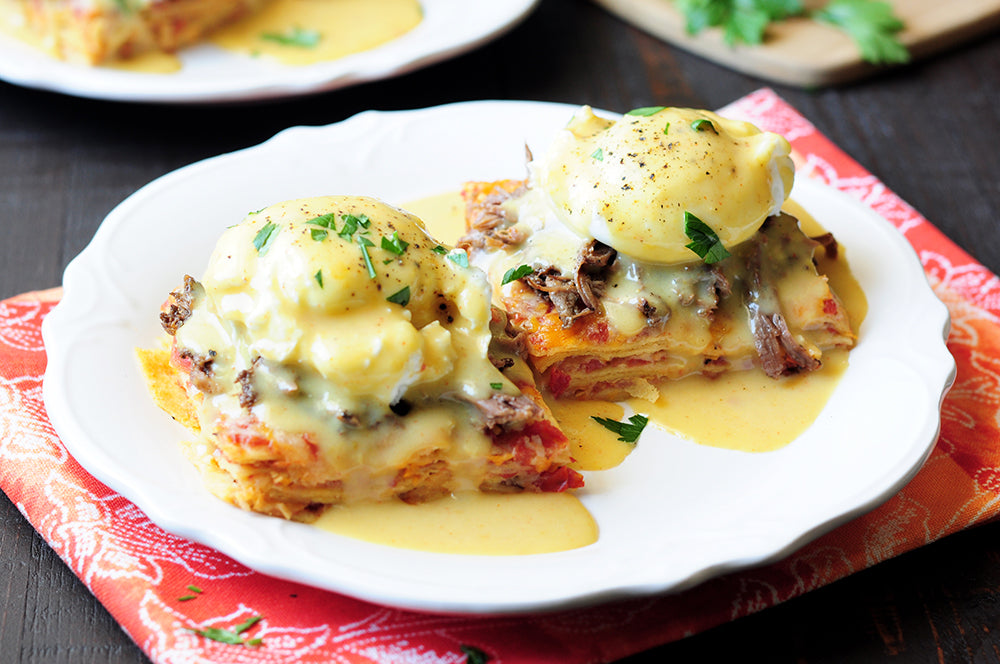 GREEN CHILI EGGS BENEDICT
Ingredients:
For the Green Chili Hollandaise
2 egg yolks
1 tsp lemon juice
1/2 tsp kosher salt
1 pinch cayenne pepper
1/4 cup melted butter, warm
1 cup green chili sauce
For the Eggs Benedict
4 eggs, poached
2 cups shredded beef, warm
freshly ground pepper
Pico De Gallo for garnish
Queso Fresco for Garnish
Instructions:
Preheat oven to 400 degrees.
Place salsa in a food processor and pulse chop a few times until thw tomatoes are not chunky anymore. Do NOT puree them.
Spray a baking sheet with Duck Fat and line it with 4 corn tortillas, ensuring that there are no gaps.
Spread 1/3 of the tomatoes and chili mixture on the tortillas and add 1/3 cup cheese. Repeat the process until all the chilaquiles base ingredients are used.
Bake for 10 minutes or until the cheese has completely melted and the salsa has soaked into the tortillas. Let cool.
While the chilaquiles base is in the oven, start making the Hollandaise sauce by combining the egg yolks, lemon juice, salt, and cayenne pepper. Whisk over double boiler until doubled in volume.
Remove from heat and slowly drizzle the warm melted butter in as you whisk until all butter has been incorporated in the sauce (if the butter is added too fast, the sauce will break). Adjust seasoning if desired.
Keep the sauce in a warm place. Add the warm green chili sauce and stir until blended.

Poach 4 eggs. Prepare four serving plates and place two pieces of the base on each plate.

To assemble the Eggs Benedict, top each base with ¼ cup beef then layer them on top of each other topped off by a poached egg. Drizzle with green chili hollandaise. Garnish with Pico de Gallo and Queso Fresco or Salsa of your choice.
October 2023
Launch Countdown
It's class time!!