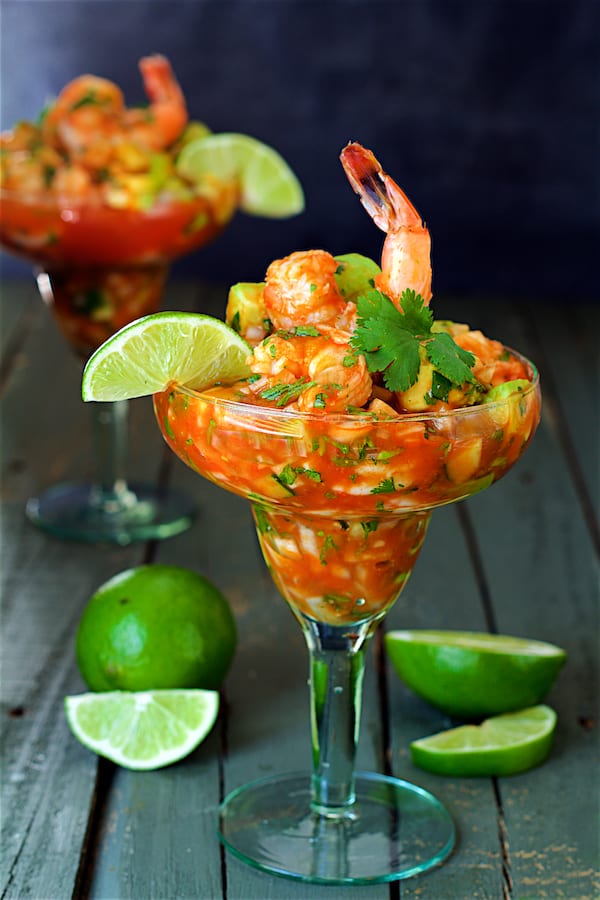 MEXICAN SHRIMP COCKTAIL MINI MARTINI with C/M TRAIL DUST SEASONING
1 lb. Shrimp (the smaller the better) peeled and deveined.
1 cucumber seeded and small diced
2 tomatoes seeded and diced
1 Avocado diced
2 tbsp Trail Dust Seasoning
1 celery stalk, finely diced
1 red onion small diced
1/2 cup ketchup
1 1/2 cups Clamato (Fiesta Blend)
1 lime juiced
salt and pepper to taste
1 bunch cilantro, chopped
fried tortilla strips
1 lime sliced
Poaching Liquid
3 cups vegetable stock
1 jalapeno, sliced
1 lime, juiced and thrown in
1 spanish onion, diced
1 tbsp Trail Dust Seasoning
salt
Instructions:
In a stock pot bring poaching liquid to a boil.
Let simmer for the flavor to build for about 10-15 minutes. Bring back to boil and poach shrimp for about 3-5 minutes, being careful not to overcook. 
Strain off shrimp and let cool. 

We are doing this as a mini appetizer, so we are going to cut the shrimp into smaller pieces. You can leave whole if you like.

While shrimp is cooling, mix the rest of the ingredients together and taste. Adjust seasoning if needed. Add in shrimp and let sit about an hour.
Rim your mini martini glasses with lime juice and then trail dust. Add a half lime slice on the side. Using a ladle scoop into the glass. 
Garnish with cilantro and tortilla strips.
October 2023
Launch Countdown
It's class time!!