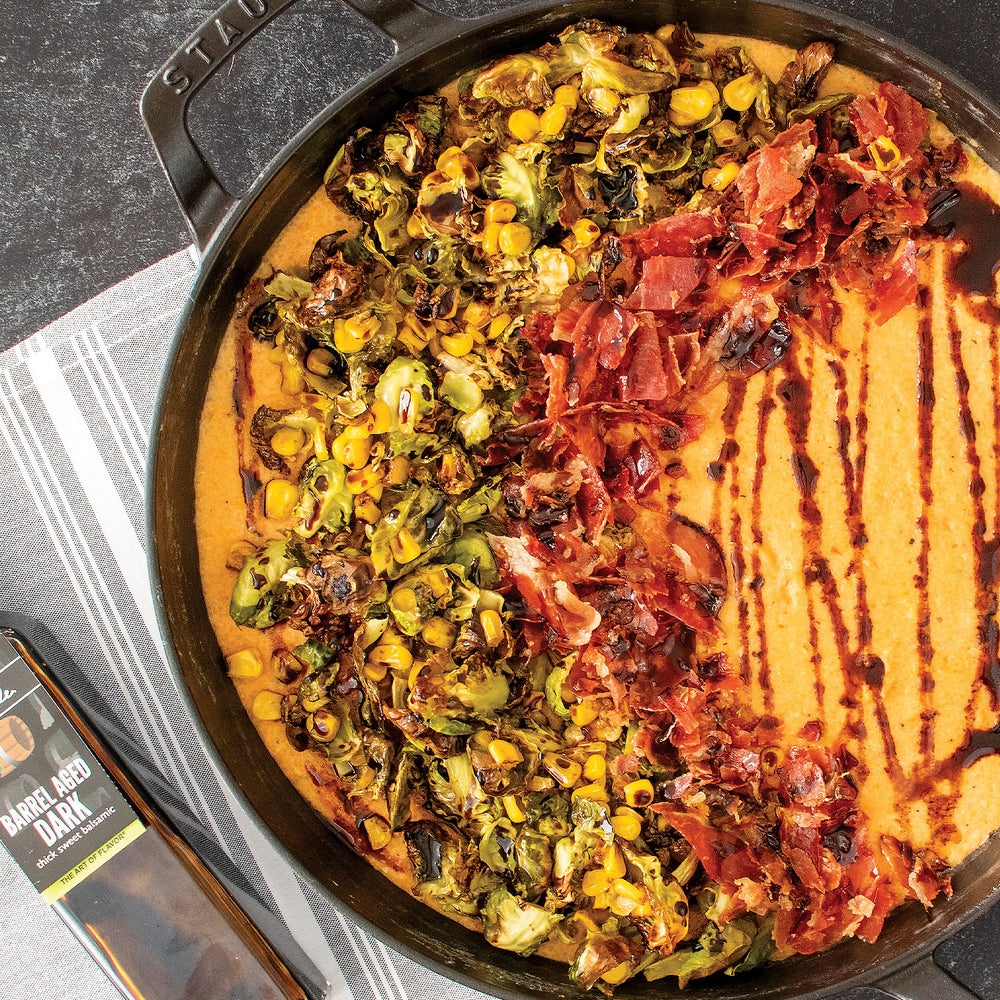 CREAMY POLENTA WITH CRISPY PANCETTA, BRUSSEL SPROUTS, AND CORN
This elevated comfort food dish starts with a cheesy and creamy Polenta base mixed with our Bruschetta Dried Herbs for a subtle bright tang and garlic flavor. Then brussel sprouts and corn are roasted with our Pizzaolio and Barrel Aged Balsamic to create a sweet, caramelized topping, and finished with salty and crispy pancetta.
INGREDIENTS
TOPPINGS
½ lb Pancetta

½ lb Brussel Sprouts

½ cup Corn
POLENTA
3 cups Milk

3 cups Water

1 cup Yellow Cornmeal

½ cup Cheddar Cheese
DIRECTIONS
Preheat the oven to 400F and line a baking sheet. Add pancetta to the baking sheet in an even layer and cook until crispy, about 20 minutes. Remove from the pan, let cool, then chop into bite sized pieces.

Cut off the bottom of the brussel sprouts and separate all the leaves. Add brussel sprouts leaves and corn to the lined baking sheet in an even layer. Drizzle with oil, vinegar, and salt. Cook until brussel sprouts are crispy, about 15 minutes.

In a pot over medium high heat bring milk, water, and Bruschetta to a boil. Whisk in polenta, reduce heat to low, and cover. Cook for 20 minutes stirring every few minutes to prevent sticking or burning. Remove from the stove and whisk in olive oil, cheese, and salt.

Add polenta to a bowl and top with pancetta, brussel sprouts, and corn. Finish with a drizzle of barrel aged dark balsamic.
October 2023
Launch Countdown
It's class time!!