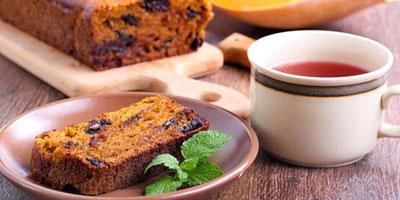 HARVEST PUMPKIN CHOCOLATE CHIP CAKE
Ingredients:
1 packet

 

Harvest Pumpkin Dip Mix
1 pkg. plain yellow cake mix
3/4 cup water
1/3 cup vegetable oil
3 large eggs
8 oz. cream cheese, softened
1 cup semi-sweet mini-chocolate chips
1 cup finely chopped pecans
1 Tbls. powdered sugar
Preheat oven to 350º. Lightly spray a 12-cup Bundt pan with vegetable oil spray, then dust with flour. Shake out excess flour and set pan aside.
Place cake mix, Harvest Pumpkin Dip Mix, water, oil and eggs in a large mixing bowl. Blend with an electric mixer on low speed for 1 minute. Stop and scrape down sides of bowl with a rubber spatula. Add softened cream cheese.
Increase mixer speed to medium and beat 2 more minutes, scraping sides down again if needed. The batter should look thick and well blended.
Fold in chocolate chips and pecans, making sure they are well distributed throughout batter.
Spoon batter into prepared pan, smoothing out with rubber spatula.
Bake cake in center of oven for 40 to 45 minutes (or until lightly  brown and cake springs back when lightly pressed.) Remove pan  from oven and place on a wire rack to cool 20 minutes.
Run a long, sharp knife around edge of cake and invert on a rack to cool completely.
Slide cake onto a serving platter, dust with powdered sugar and slice.
ENJOY! For optimum flavors, allow to set overnight before serving.
October 2023
Launch Countdown
It's class time!!