Ingredients:
3 1/4 cups all-purpose flour
1 1/2 tsp. Sea Salt
1 tsp. Red Star dry active yeast
1 cup water, at room temperature
Tools Needed:
Rolling Pin
Mixer
Emile Henry Baguette Baker
Kitchen Scale
Bench Scraper
Pastry Brush
Paring Knife to Slice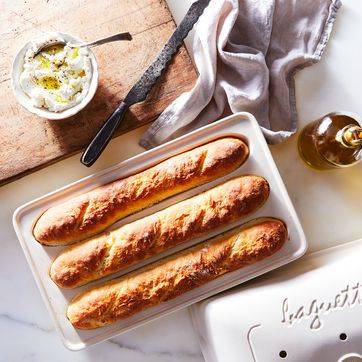 Directions
In the bowl of a stand mixer, use the paddle to mix together flour, sea salt, yeast, and water. Attach the dough hook, and mix for 5 minutes on low.
Cover with a damp towel, and allow to rise for 40 minutes.
Pour out from bowl onto a floured surface, and kneed out into a roll. Divide into 3 even sections. Form each section in a tube as long as the grooves on the baguette baker, pinching down the bottom of each roll to form a slight crease.
Lightly flour your Baguette Baker, and place in each roll, crease-side down.
Cover, and allow to rise for another 30 minutes. As the bread is rising, preheat oven to 450F.
Use a food brush or mister to lightly coat the tops of the bread with water - this will help in giving them a rustic caramel color - replace the top, and pop in the oven for 25 minutes.
Remove cover, baking for a final 5 minutes or until the baguettes are golden brown.
Remove, allow to cool, and devour as is, or with your choice of toppings and fillings.