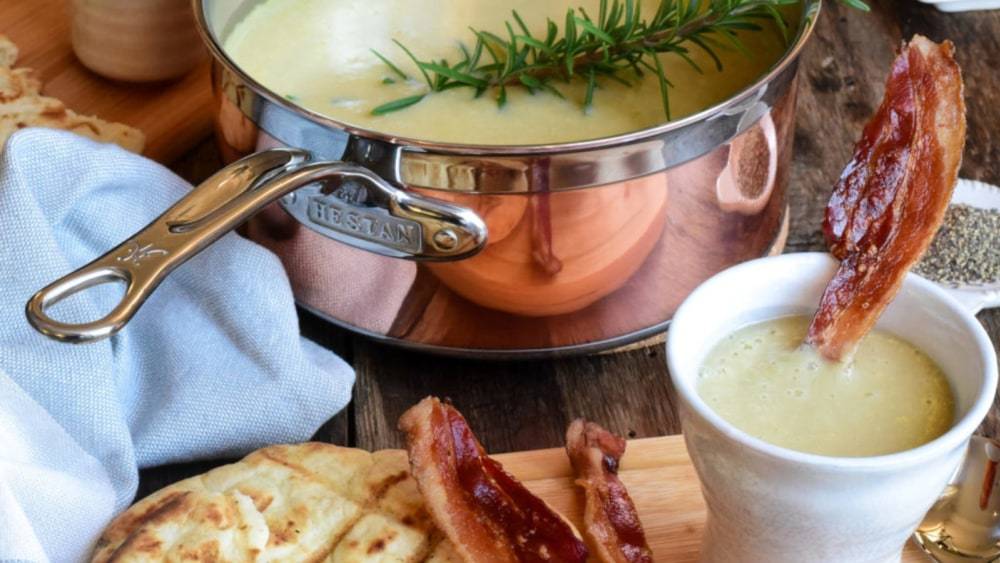 Zimmy's Nook's Potato, Leek, Bacon & Rosemary Soup
Ingredients
1 Tbsp. unsalted butter
1 Tbsp. olive oil
1 onion, chopped
3 strips of thick cut bacon, chopped
3 leeks, white & light green parts, sliced and well washed (12-14 oz)
4 medium yellow potatoes (skin on), washed and diced
6 cups of hot vegetable stock
2 sprigs of rosemary, leaves removed (about 2 tablespoons)
3 Tbsp. sour cream
3 Tbsp. milk (or cream)
4 slices of crispy thick cut bacon
Melt the butter & oil in a 4 quart saucepan over medium heat, add the bacon and onion, fry, stirring occasionally until they start to turn golden.
Add in the leeks and potatoes, stir well, then cover and turn down the heat to low. Cook gently for 5 mins, stirring occasionally.
Pour in the stock, add the rosemary and season well with salt & pepper, then bring to the boil. Cover and simmer for 20-25 mins until the vegetables are soft.
Let cool for a few minutes, then blend in a food processor in batches until smooth.
Return to the pan, pour in the sour cream & milk, stir well to combine. Taste and season if necessary. Simmer for 5-10 minutes.
Serve topped with tasty crisp bacon and enjoy with warm crusty bread on the side.